Art Exhibit
Weber Art Gallery
University of Pikeville
Pikeville, KY​​​
Guest Speaker
Kentucky Reading Association Annual Conference
Hyatt Regency​
Lexington, KY​​​
One of Ten Pieces of Art from Around the Country, ​Chosen from Thousands of Entries​
​Art Exhibit; 'Building Bridges'
National Liberty Museum
​Philadelphia, PA


Recipient of the Kentucky Press Association 'Mark of Excellence Award' for Editorial Cartooning

Back to back years;
2012 - 2013

Regarding work for the University of Kentucky's 'Kentucky Kernel'​​​​​
First Children's Book Titled "Erby's Turn to Rake" Received
'5 out of 5 Stars', and Won the 'Silver Medal' for Children's Book of the Year from 'Reader's Favorite' (4th to 6th Grade).​​


Art Exhibit (Alt. Illustration) at the Stoll Keenon City Gallery
Main Street
Lexington, KY​​


Recipient of the 2014 "Young Professional of East Kentucky in the Arts" Award from the YPEK
Organization.

Recognized for the Success of the "Sequential Art Workshop" for Building Interest in our Students Pertaining to Creative Writing and the Visual Arts.​​​


Named 'Honorary Pike County Judge Executive' for Work in the Schools of East Kentucky.

This Recognition Came After Students from Multiple Schools in the Region Placed within State-Based Competitions for Creative Writing and Visual Arts after Participating the Workshops.

Epling has Visited Every School in his Home County Promoting this Initiative to the Students.​​​​


Bestowed the Title of "Kentucky Colonel" by Governor Steven Beshear for His Work in Kentucky Schools.

From 2012, to 2015, Epling has Visited Over 150 Schools Across Central to Eastern Kentucky Presenting His 'Sequential Art Workshop' (Grades k-12) with Outstanding Results.

Many Students Participating in Epling's Workshops have went on to Place, if not Win, in State-Based Writing / Drawing Competitions. ​​

Kentucky State Government Referred to Epling's Workshops as a "Valuable Resource for Our Schools to Generate Interest in Creative Writing and the Visual Arts".​​


My rendition of a drawing by artist Edward Gorey, titled 'The Doubtful Guest', was included into the official museum dedicated to the late illustrator (Gorey's home has been transformed into the 'Edward Gorey House'). It's an honor to have my work displayed in the Maryland .
"The trouble with not having a goal is that you can spend your life running up and down the field and never score." – Bill Copeland
I was named "Artist to Watch" by the critically acclaimed "ComicRelated.com". Comic Related has been very supportive of my work, which is something I appreciate a lot. The interview conducted with them (at the Lexington, KY Comic-con) can be viewed by visiting the TV, News, Etc. page here on my website.
Local award winning author, illustrator, and cartoonist Christopher Epling was recognized recently for his commitment to education by 'Forward in the Fifth' (a nonprofit education organization created more than 28 years ago to improve education throughout Southern and Eastern Kentucky). Epling was nominated and selected as the 2015 recipient of the Lee and Eleanor Rose Ambassador Award. This recognition is part of the AppLE Awards (Appalachian Leaders in Education). Covering and selected from a 49 county area, recipients of these awards are recognized for their efforts to expand beyond county borders to promote education.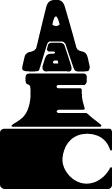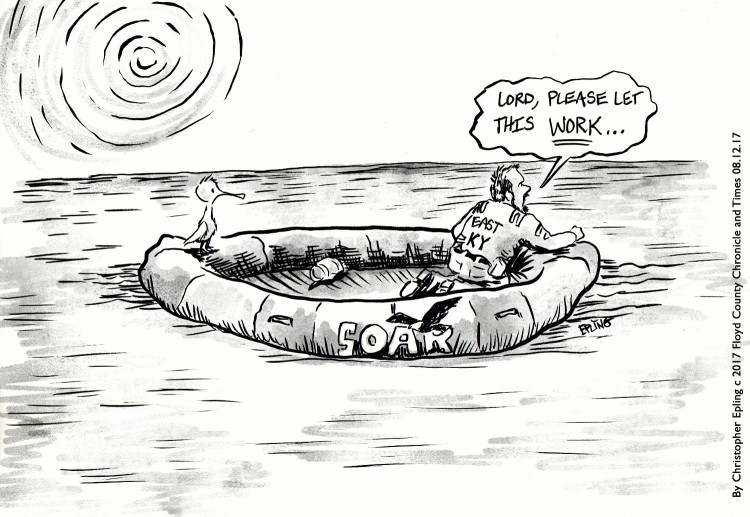 In 2017, I was inducted into the Association of American Editorial Cartoonists. This is such an honor. From my early work with the Kentucky Kernel, North of Center, etc, to my current work with the Appalachian News Express, The Floyd County Chronicle and Times, The Mingo Messenger, The Paintsville Herald, and the Hazard Herald.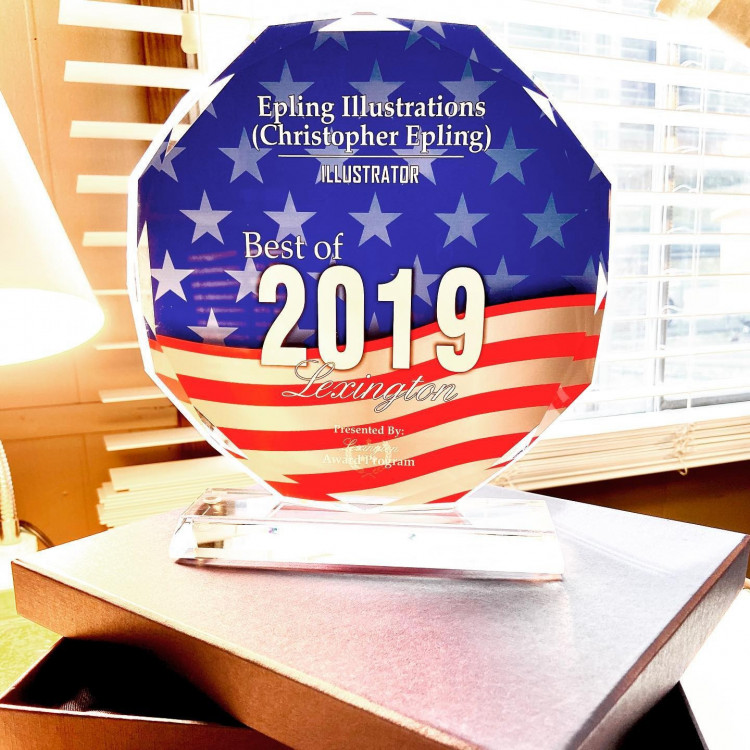 I received this recognition in 2020 from the Lexington, KY Honors Program. Had no idea that this was even in the spectrum until I was contacted by the organization to tell me I had won. This really means a lot to me and my work. Being recognized for my hard work and dedication helps me to continue to push onwards towards my dream.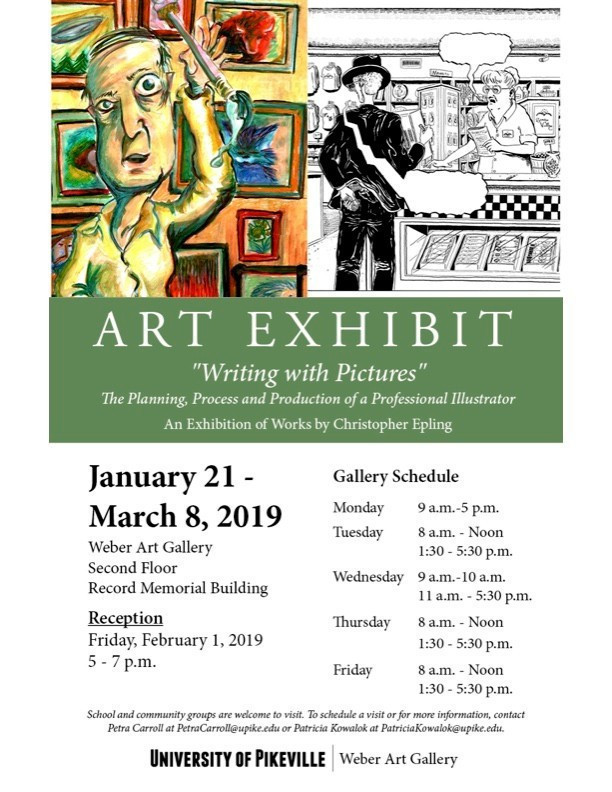 In 2019 I was asked to put together an installation at the Weber Gallery at the University of Pikeville. The show was titled "Writing with Pictures". I totally stole this title from Uri Schulvitz's book with the same title, but it was the closest description of what I wanted the show to be like. I believe it came off very well and am honored that the university asked me to put this together.